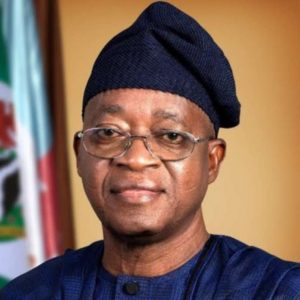 Osun state is a state in South west Nigeria. It was created from Oyo state on the 27th August 1991. The state's name is derived from the River Osun the venerated natural spring that is the manifestation of the Yoruba goddess of the same name. The state is populated by people from the Yoruba descent.
Agricultural Resources:  Cocoa, Coffee, Soyabeans, Kola-nuts, Tobacco.
Natural Resources:  Marble, Tin Columbite.
Points of Interest:  Oshun Shrine at Oshogbo, Opa Oranmiyan at Ile-Ife, Places of Owa Obokun in Ilesha and the Oni, Ife City Walls at Ile-Ife.
Local Government Areas
Aiyedaade
Aiyedire
Atakunmosa East
Atakunmosa West
Boluwaduro
Boripe
Ede North
Ede South
Egbedore
Ejigbo
Ife Central
Ife East
Ife North
Ife South
Ifedayo
Ila
Ilesa East
Ilesa West
Irepodun
Irewole
Isokan
Iwo
Obokun
Odo Otin
Ola Oluwa
Olorunda
Oriade
Orolu
Osogbo