Currency – The Naira and Kobo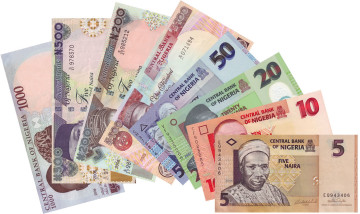 Introduced in 1973, the currency currently used in Nigeria is the Naira and Kobo. Prior to this, the country used Pounds as the legal tender. Naira has the sign " ₦ " while the kobo is signed "K" .
The Kobo
In 1973 the kobo had five denominations namely  1/2k, 1k, 5k, 10k and 25k. In 1989  50K and N1 notes were changed to coins. In recent times the kobo coins have been phased out as the value can no longer purchase items.
The Naira
In 1973, the Naira note was introduced with the following Denominations – ₦1, ₦5 and ₦10. Some notes were subsequently phased out, others redesigned and some new notes were introduced.
President Goodluck Jonathan unveiled a new 100 Naira note on the 12th of November, 2014 to commemorate Nigeria's 100 years of existence. In front, the new note has the same portrait of Chief Obafemi Awolowo as the existing note but has a new color scheme and increased security features, including "One Nigeria, Great Promise" in microprinting. On the back it features traditional dancers as well as a QR code which launches a website about Nigeria's history when scanned.