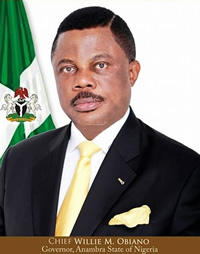 Anambra state is the 8th most populated state in Nigeria and the 2nd most densely populated in Nigeria after Lagos. The name Anambra was originally Oma Mbala , The name was a tribute to the Oma Mbala  river . The state was created on the 27th of August 1991 from the east central state. The indigenous ethnic group in the state is Igbo with a population of 4,055,048 as at census 2006. Onitscha and Nnewi  are the biggest commercial and industrial cities, respectively.
Main Towns:  Onitsha, Awka, Njikoka, Amawbia
Natural Resources:  Iron Ore, Limestone, Coal Fine Clay, Marble and Silica Sand, Lead, Zinc, Petroleum and Natural Gas.
Agricultural Resources:  Cocoa, Palm Oil, Maize, Rice, Cassava.
Points of Interest:  Ijele masquerade from Aguleri, Omaba festival, Yearly yam festival, Odinani Museum at Nri.  Anambra State is historically known for great craftsmanship, The River Niger with the famous Niger bridge links the bustling commercial town of Onitsha with ports at Port Harcourt, Burutu and Warri in Delta State.
Local Government Areas
Aguata
Anambra East
Anambra West
Anaocha
Awka North
Awka South
Ayamelum
Dunukofia
Ekwusigo
Idemili North
Idemili South
Ihiala
Njikoka
Nnewi North
Nnewi South
Ogbaru
Onistsha South
Onitsha North
Orumba North
Orumba South
Oyi