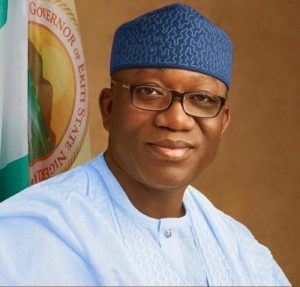 Ekiti state is a state found in western Nigeria, it was created  on October 1, 1996 by the military under the dictatorship of General Sani Abacha. The state, carved out of the territory of old Ondo State, covers the former twelve local government areas that made up the Ekiti Zone of old Ondo State. Ekiti State is reputed to have produced the highest number of professors in Nigeria. The state is populated with people from the Yoruba ethnic group and the language spoken is Yoruba.
Mineral resources: Cassiterrite, Columbite, Tantalite, Ceramic (ball) clay, kaolinite clays, Tin ore, Bauxite, Charconite granite.
Agricultural Resources: Cocoa , Oil palm, Timber, Rubber, Rice , Yam, Cassava, citrus, cashew, Kolanut
Points of interest: Arinta water fall, Fajuyi memorial park, Ikogosi Warm springs.
Local Government Areas
Ado Ekiti
Efon
Ekiti East
Ekiti South-West
Ekiti West
Emure
Gbonyin
Ido Osi
Ijero
Ikere
Ikole
Ilejemeje
Irepodun/Ifelodun
Ise/Orun
Moba
Oye