The Fulani Ethnic Group Nigeria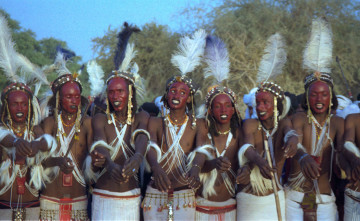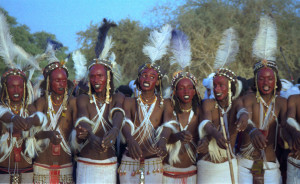 The Fulani people in Nigeria are also known as "Fula" or "Fulbe". A group of people in Nigeria with a small  population ,as the larger population can be found in other countries all over Africa . The Fulani people are bound together by their language( Futfulde) and by their code of conduct known as "pulaaku".
Fulani people are mostly nomadic .In Nigeria the Fulani people can be found in the Northern part of the country ,states such as Katsina , Sokoto, Kebbi, Bauchi, Yobe ,Gombe and a few in Benue.
Fulani people are traditionally Nomadic, pastoral trading people, they herd cattle , goat and sheep across a vast hinterland of their domain. The Fulani code of conduct "pulaaku" consist of qualities such as patience ,self control, discipline, prudence ,modesty, respect for others (including foes), Wisdom , fore thought, personal responsibility, hospitality, courage ,and hard work.
The Nomadic Fulani women make handicrafts including engraved gourds, weaving , knitting beautifully made cover for calabashes known as "Mbeedu " as well as baskets. The men are not actively involved in these activities as they are fully into pastoral trading.
The traditional attire for Fulani people is  black or white cotton fabric gown adorned with intricate blue, red and green thread embroidery work with styles different according to region and sex. The Fulani hair is also made into long braids with silver and amber attached to the braids, the women decorate their  long braids with beads accessories as well as cowrie shells.
The Fulani have a rich musical culture playing variety of instruments including Drums, Hoddu (a plucked skin covered lute similar to a Banjo and Riiti (a one stringed bowed instrument similar to a violin). The fulanis love fresh milk which they consume in several forms such as yoghourt  and cheese .It is common to see Fulani women hawking milk products .Traditionally the fulanis live in dome shaped houses known as "Bukkuru" or "suudu hudo" which means grass house ,they live simple lives and are predominantly muslims.