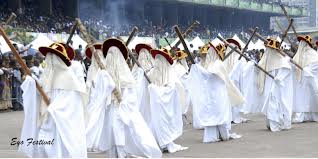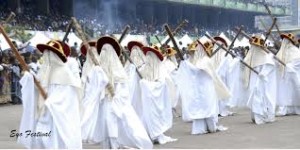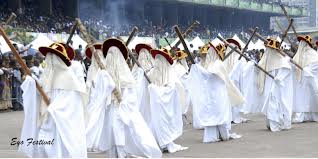 The Eyo festival also known as the Adamu Orisa play is a Yoruba festival indigenous to Lagos Nigeria . In ancient times it was held to escort souls of the departed,the King of Lagos or Chief and also to usher in a new King .It is now being observed as a tourist event and it is traditionally performed in Lagos .
The Eyo masquerades are costumed dancers who represent the spirit of the dead and are referred to in Yoruba as "Agogoro",they come out during the festival dressed in white regalia and carrying white staff
On Eyo day , the main highway in the heart of Lagos  from the end of Carter bridge to Tinubu square is closed to traffic , this allows procession from Idumota to the Iga Iduganan palace .
Eyo festival and its Socio Cultural symbolism being rooted in the tradition and custom of the people of Lagos has become one of the foremost Festivals in Nigeria and it is also the cultural monument of Lagos .The elegance and theatretical display of the festival thrills those in attendance , it also contributes Economically to its local communities.