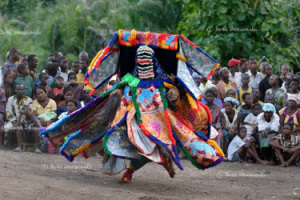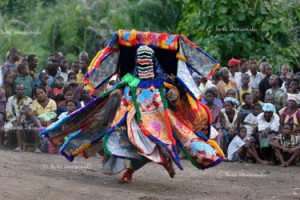 The Egungun festival is a part of the Yoruba traditional religion .It is performed to mark the death of important personalities, the festival is common among the Egbas, Egbados, Oyo and other parts of south western Nigeria. The festival is usually an annual celebration performed within the months of November to April when there is no rain, with the belief that their ancestor should not have to surfer in the rain .
Egungun is otherwise known as masked ancestors of the Yoruba land which assures the people that the dead are among the living. The festival is set off when the Chief priest of the Egugun Masquerades invokes the spirit of the ancestors ,this act is known as "Alapi", it is done when the Egugun masquerade and worshippers dance , drum and are now possessed by the ancestral  spirit. The Egungun masquerade is dressed in colourful regalia with a whip ,which is used to flog anyone in the way of the spirits .
The festival is believed to help foster unity in the community and it is also Economically beneficial.