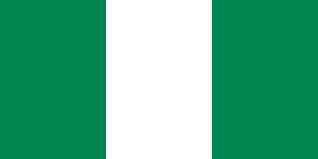 The Nigerian flag is a piece of fabric rectangular in shape with a distinctive design of two unique sea green bands and a white band in the middle.
It was designed by Mr Micheal  Taiwo  Akinkunmi in 1956. The flag was adopted officially on the 1st of October 1960.
The green in the flag represents the forest and abundant natural wealth of Nigeria .
The white band in the flag represents peace.
Brief History Of The Nigerian Flag
The Nigerian flag was designed by Mr Micheal  Taiwo  Akinkunmi , a twenty three-year-old student in 1959. Mr Micheal was studying at Norwich Technical College in England when he saw an advertisement in a newspaper requesting entries for design of a new national flag . The original design submitted had a red sun with streaming rays placed at the top of the white stripe but this was removed by the judges. The flag was eventually chosen as the winning design and was officially adopted on October 1st 1960.