The Igbo Traditional Marriage (Igba-Nkwu)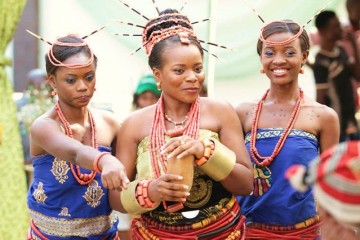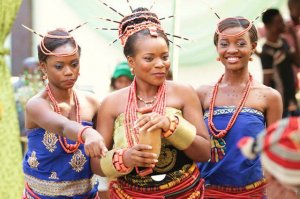 The Igbo traditional marriage is also known as wine carrying, this ceremony comes immediately after the "Iku Uka" which is the knocking on the door . The Iku Uka (knocking on the door) takes place when the groom with the elderly men in his family come to tell the family of the bride of their intention and also to seek the consent of the bride's father to take their daughter's hand  in marriage. During the Ika Uku ,the groom and his family give 1 keg of palmwine to the bride's parent and uncles( one keg each) the palm wine is called "Ngwo".
The main ceremony kicks off after the Iku Aka. The groom arrives the family house of the bride with his family members. On their arrival, the groom with the elderly men in his family enter into a meeting with the bride's father .This is when the bride price (Ima Ego) is settled .Once the bride price has been accepted the bride is then invited ,she comes out dancing dressed in the Igbo traditional attire (2 pieces of George wrapper each one covering her waist and her chest) and accompanied by her  friends as they all sing and dance with her ,she  goes over to where her mother's family is seated greets them and dances back inside .
The second time the bride is invited out ,she is dressed in a white blouse and George wrapper she dances to her father's family and greets them then dances back into the house. The bride is once again invited out for the 3rd time ,this time she is dressed in the same attire as the groom ,she is given a wooden cup filled with palm wine and asked to look for her groom from the crowd and serve him the palm wine. While she searches for the groom, the relatives of the groom distract her inviting her to serve them the wine , when she finally finds her groom she serves him the wine kneeling down as a mark of respect for her husband. The husband now drinks the palmwine ( he must drink all of the wine to show the he completely accepts her) and now they are married traditionally, this is followed by the nuptial dance ,merry making and feasting all through the evening.