Hausa Traditional Marriage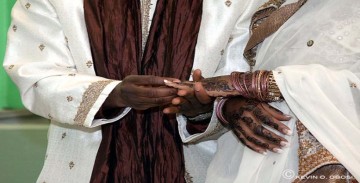 Taking  a wife in hausa land usually begins with what is known as "Na gani ina" meaning , i like what i see . At this stage the grooms family and friends accompany the groom to visit the family of the bride ,this is usually an all men affair, the family and friends( men only) take with them some gifts to the bride's parents house ,fruits and kolanut must be included. The gifts can either be accepted or rejected by the brides's father. If the gifts  are accepted by the brides father the groom is then permitted to see the bride.
The groom to be and the girl are now allowed to get to know each other's likes and dislikes, after this if the girl feels comfortable with marrying the man she gives her consent. The bride's parents now have the duty of communicating the approval to the grooms family. this is known as "Gaisuwa" then the couple are now engaged. Both families will then sit to have a dialogue on wedding arrangements and setting of wedding date. The setting of the wedding date is known as "Sa rana".
The wedding day is called "Fatihah",on that day the dowry "sadaki" is paid. While the dowry is paid, the bride stays inside with older women and her friends .The3 older women are there to carry out aa ceremony called "Kunshi" this is to prepare the bride top become a wife. It can also be called bridal shower .Generous amount of perfume and scented flowers are applied on the bride. Lalei (Henna) is also applied on her arms and feet they are usually made in unique an intriguing designs.
A wedding reception follows after the dowry has been payed, This is known as "walimah" .During the walimah food and drinks are served to guest and there is a lot of merriment this continues for the rest of the day.
The bride is admonished by her Parents, Aunts, uncles and friends after which she is taken to her husband's house.